Address
Quälgeist Berlin e.V.
Lankwitzer Strasse 42/43
Entrance in the passageway to the yard
1st floor
12107 Berlin
Contact
e-Mail: info@quaelgeist.sm
Phone: 030 695 196 50
You can also contact us via direct message on Facebook, Twitter and Fetlife:
Map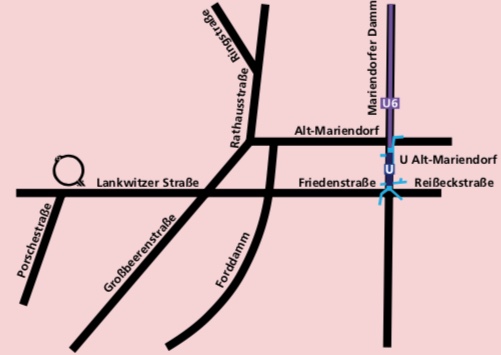 How to reach us
Public transport
Subway U6 to station Alt-Mariendorf + Bus 181 heading towards U Walter-Schreiber-Platz, leave at bus stop Porschestraße or take a short walk from the subway station.
S-Train S25 to station Lankwitz + Bus 181 heading towards U Britz-Süd, leave at bus stop Porschestraße. The bus stop "Porschestraße" is just a few meters away.
S-Train S2 to station Marienfelde + Bus M77 heading towards U Britz-Süd, leave at bus stop Friedenstraße/Großbeerenstraße. Walk 400m along the Lankwitzer Straße.
In summer 2021, construction work will take place alternately on the U6 and S2 lines.
Please plan your connection in advance, for example here: BVG Fahrinfo
By car or carsharing
The area of the car sharing companys sharenow and WeShare is only 5 minutes walking distance away.
Usually, there are free parking spaces at the street.
There is also a disabled parking space.
Important notice for our guests:
On bigger events like "Easter Berlin" or "Folsom Europe", we expect more visitors than usual, which may result in a queue at the entrance door. In deference to the people living nearby and especially their children, we advise you to always come in proper clothing to our door. Please do not show off naked bums or genitals whilst waiting on the public pavement. There are facilities to (un-)dress and store your clothes and valuables inside our rooms. Thanks you for considering!