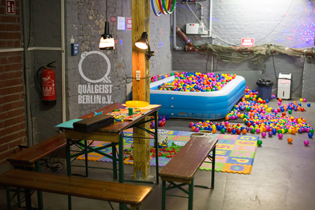 After several days of preparation and after almost every little of the Quälgeist kindergarden had fallen from a ladder or otherwise hurt himself at the handicraft lessons, we had opened our doors again on Friday for the very littles and their guardians.
Initially only for boys and from Saturday on as well for girls.
We have spared no effort to pull off the best ABDL- & Age Play event in the whole of Berlin and probably the whole of Germany.
Once again it was possible to get diapered and play around on our 3 floors at the Quälgeist. In the basement we had the playpen with kid's cinema, a colouring corner and the ball pit awaiting all those littles. Above there was the crib where one could take a nap, with or without bed fixing. The classroom could be used for hard studying and grubby urchins had the chance to splash around in the slime shower.
As a special surprise we inflated a huge bouncy castle in shape of a pirate ship in our courtyard and were pleased about the big, sparkling eyes of our guests.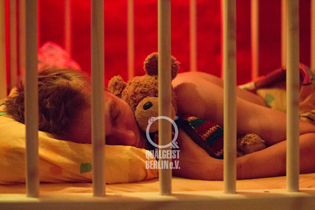 Friday night was, as always, reserved for male diaper lovers only and you only got in when you were wrapped in diapers.
People met old friends and were chatting with each other whilst having a beer or a bottle of cocoa.
The basement had been flooded with balls from the ballpit in no time, after the kids in the ball pit had thrown the balls onto those that weren't in the pit.
In the playpen a lot of cuddling and buggering about was going on, while movies from DVD were shown on a screen.
All this was going on until the party came to an end at early Saturday morning.
The team and our overnight guests went to bed and after a night much too short and a breakfast the next morning, we took the time to shoot a few photos which isn't permitted during our parties.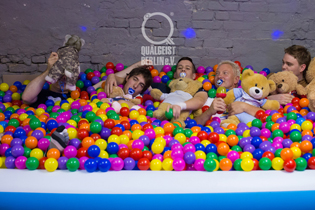 We used the free afternoon to rest and to prepare the cakes for Sunday.
Soon the first guests showed up for the evening event and the fun started again.
Now girls also were allowed in and it was nice to see that again some girls had the courage to pay us a visit. We have even more girls joining the fun with every weekend and we enjoy very much seeing that the little girls also like our ABDL events.
There was a lot of bouncing in the pirate ship going on as well as balls pit baths, colouring, playing around, cuddling and smooching.
Mommy and Auntie were busy with changing diapers all day long and they took care of every wet diaper.
IIn addition to the cocoa, we also had the option of vanilla and banana milk. Unfortunately, the strawberry milk powder was left in the cupboard.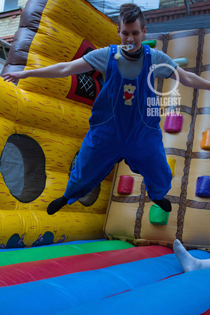 Sadly it was rather quiet on Sunday. The hard-boiled amongst the Ageplayers have again not dared to visit Sunday school, which is quite sad.
Maybe it'll work next time.
On the next event we will try to make some improvements.
We're planning to already open on Saturday afternoon. But since it will be too cold at this time of the year, we may not have the bouncy castle at the next event.
We want to have a children's play time in the afternoon, perhaps even in the form of a children's game show, in which the most skillful team reaps a small prize and the losing team has to be gunged in the slime shower.
Furthermore we'd like to give incentives for people also joining us on Sunday.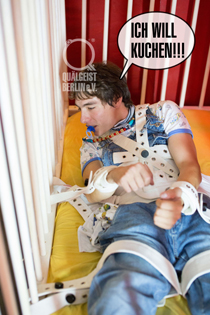 We will hand out vouchers for one or two free drinks for the next day to each guest, which should reduce the costs for our guests.
And of course we're also looking forward to your suggestions and ideas on how one could make the diaper weekend at Quälgeist even better.
If someone wants to pass on his/her know-how, we also look forward to guest lecturers for age play related workshops.
Last but not least we appeal to the age players and BDSM people with a stronger interest in disciplining: Quälgeist Berlin e.V. is – as the name suggests – a club for BDSM & fetish enthusiasts. But this does not mean a contradiction, since playing with education and discipline has always been a part of the BDSM scene.
For further information write to ferienlager@quaelgeist.sm
PepeTheSkunk